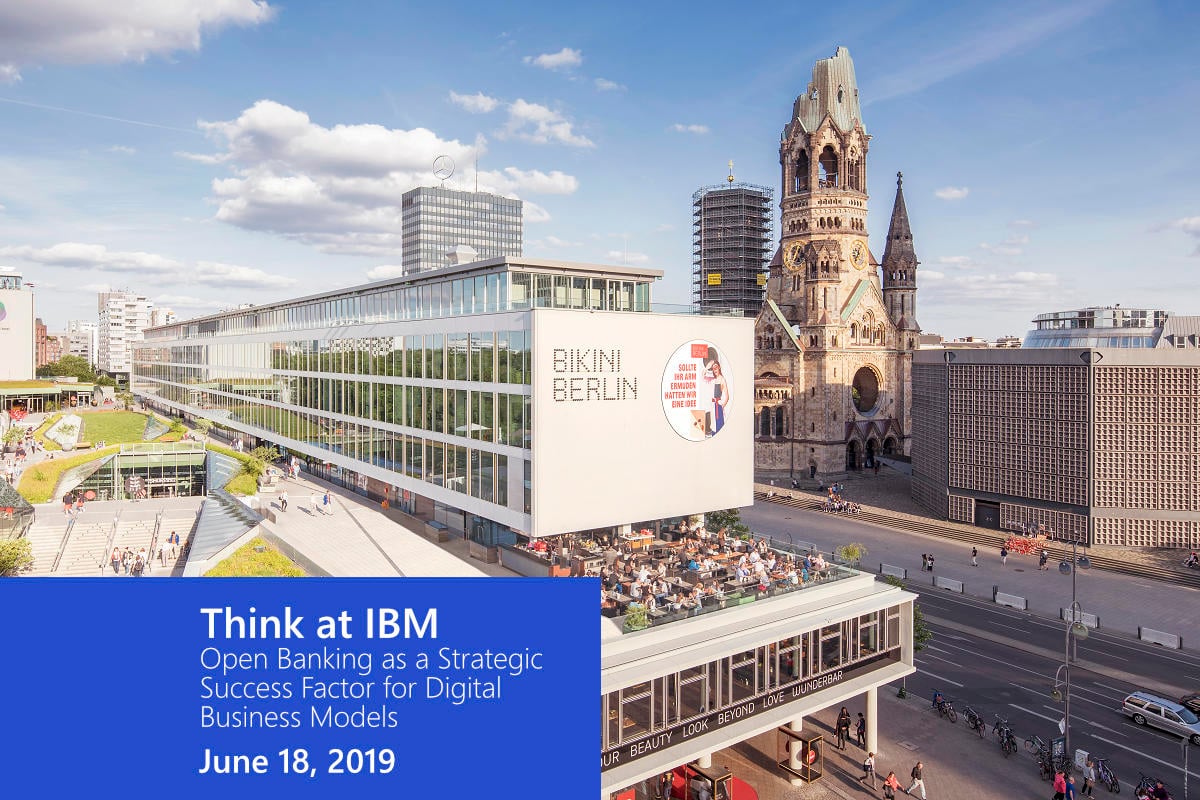 Open banking is considered the key to new concepts and business models for financial institutions. June 18, 2019 will be all about this topic: IBM dedicates an entire day to current developments within the banking landscape at the 'Think at IBM' event, taking place from May 20 to June 29 in Berlin. In expert and deep dive sessions, industry specialists will inform visitors about innovations in the development of open banking and about strategies for implementing digital business models. In the morning, knowis will be part of the expert panel.
The six-week pop-up experience at BIKINI Berlin aims to make technology and digitization tangible for its visitors. At Think at IBM, future topics such as cloud, AI, blockchain or cyber security will be demonstrated – also in the context of customer applications. "With our unique integration of innovative technologies, industry expertise and our reputation for trust and security, which we have built over the course of decades, we are ready to enable clients to write the second chapter of their Digital Reinventions," said Ginni Rometty, Chairman, President and Chief Executive Officer of IBM. Every day has its own agenda: About 35 thematic chapters deal with strategically important specialist topics from various perspectives and industries, such as the banking sector.
During the event 'Open Banking as a Strategic Success Factor for Digital Business Models' on June 18, innovation in the financial industry and strategies for implementing digital business models will be the focus at BIKINI Berlin. This topic aligns well with the current developments that can be observed in the financial industry. Digital Reinvention, i.e. the evolution to a modern bank, poses challenges to institutions throughout the entire industry.
Growing Requirements in Banking Call for Innovative Solutions
At the latest since regulations such as the second EU Payment Services Directive (PSD2) came into force, financial institutions have been forced to thoroughly consider the immediate consequences. They are legally obligated to create interfaces that enable data exchange with external providers. The pressure customers exert on banks is also increasing. Omnichannel banking, i.e. the use of the same data pool across all possible channels and access points, is taken for granted today, but is often difficult or impossible to realize with the historically grown heterogeneous system landscape. The modernization of legacy core banking systems and the use of new technologies such as Watson or Blockchain often call the existing system architecture into question.
Platform Banking as a Holistic Solution Approach
For some time now, platform banking has emerged as a holistic approach to digital evolution in the financial industry. An open banking platform as a technological foundation paves the way for Digital Reinvention and positions the bank at the center of an API ecosystem of variety of specialized market players. This does not only make banks fit for PSD2: The linking of all relevant data, processes and applications enables financial institutions to develop new digital products and services and thus open up new revenue streams and improve the customer experience.
IBM and knowis at the Open Banking Day at BIKINI Berlin
But how can open banking be successfully realized? What are the technological possibilities? Both industry-specific solutions and innovative technologies will be highlighted at the open banking event on 06/18/2019 at BIKINI Berlin. Interested visitors can get a deep dive into IBM's open banking solutions at first-hand. As a long-standing and award-winning partner of IBM, knowis AG can also be found among the speakers and gives a practical insight into how the proficiency of the Regensburg banking platform experts combines with IBM technology to build state-of-the-art business solutions.
As already at CEBIT 2018 in Hannover and IBM Think 2019 in San Francisco, knowis will again join forces with IBM in Berlin to share interesting perspectives on the current developments of the industry.
Image Source Teaser: Bayerische Hausbau/Bikini Berlin