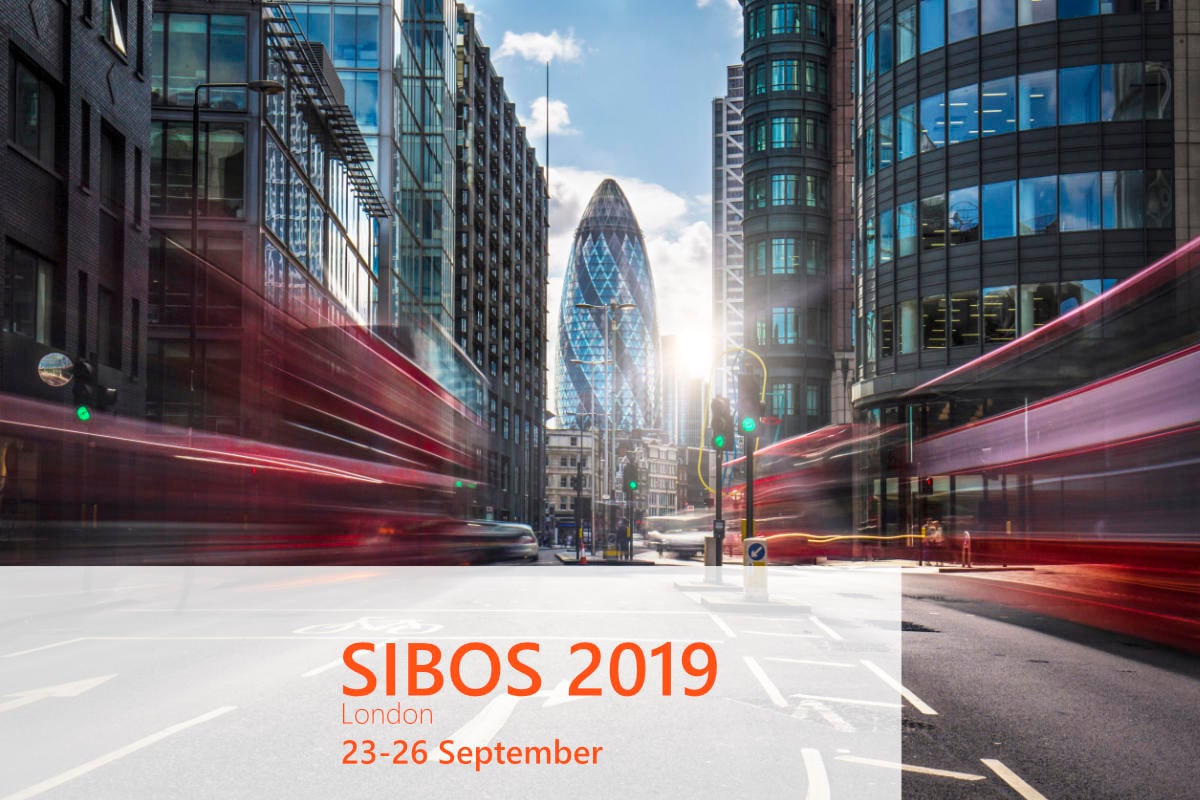 Following the theme 'Thriving in a Hyper-Connected World', Sibos, one of the most important international events in the financial sector, will take place in London from 23 to 26 September 2019. As a long-standing business partner of IBM, knowis AG will also be present in London with experts who share their know-how with the visitors.
Digital transformation is omnipresent – for financial service providers, this calls for tackling the challenges they face in times of big data, artificial intelligence and the like, and seizing opportunities as they arise. But how can infrastructures that have grown over many years be adapted to today's and, above all, future requirements? At Sibos, banks will approach answers to questions like these. As exhibitors and in expert sessions, numerous companies will be presenting smart strategies for the future of the industry.
More than 9,000 executives, decision-makers and opinion leaders from the international finance and technology industry will meet at this year's Sibos at ExCeL, the Exhibition Centre London. Since 1978, the Society for Worldwide Interbank Financial Telecommunication (SWIFT) has been organizing the business forum for the financial services industry on an annual basis and it takes place at various venues around the world. Visitors will have four days to network, attend interactive events, be inspired by the exhibitors' conference contributions and showcases and, last but not least, learn new things and discover business development potentials in an immersive atmosphere.
From Digital Banking Ecosystem to User Experience in Finance
More than 200 companies and organizations will take a look at the impact of new technologies on value chains, business models and infrastructures. Five themed blocks will shed light on how man and machine work together to create the bank of the future.
One major focus of Sibos 2019 will be enhancing digital ecosystems. Within these infrastructures, financial institutions can use open interfaces (APIs) to integrate external third parties as business partners and also connect internal applications to provide better services faster.
Leveraging data will be another key topic. The amount of data to be processed in the digital age is growing continuously, which is why the efficient, secure and compliant use is crucial. It is therefore no surprise that keeping ahead of cybersecurity threats and adapting to geopolitical and regulatory priorities are among the sub-themes.
With the fifth subtopic, this year's Sibos will focus on exploring the human element. After all, banks face many challenges both in the context of the user experience of their employees and due to the changing expectations of their customers.
Open Standards Accelerate Digital Transformation
The second EU Payment Services Directive PSD2 and the topic of API banking associated with this continue to dominate the banks' agenda. Both entail an increasing level of collaboration between financial institutions and third-party providers, primarily fintech companies. A great opportunity for the visitors of Sibos to form these bonds on a personal level, too: Networking and getting to know the industry's thought leaders are a vital part of the event.
The Banking Industry Architecture Network (BIAN) shares this approach of creating a strong network through collaboration. The organization, which has been dealing with the standardization of service-oriented architectures for many years, will present the Coreless Bank Initiative at Sibos. The aim of this initiative is to address the historically evolved problems of outdated, complex core banking systems. To achieve this, leading software providers and financial institutions are working together to develop a future-proof, regulatory-compliant and universally compatible banking infrastructure based on BIAN microservices.
Cloud Banking is Gaining Momentum
Throughout the banking sector, cloud computing is emerging as the next generation of technology. IBM will also present its cloud options for financial services at Sibos 2019. Financial institutions worldwide trust 'Big Blue' to solve strategic challenges within their digital transformation. As a long-standing business partner of IBM and provider of smart banking platforms, knowis AG will again be present at Sibos this year. The two companies will present solutions that enable banks to meet the challenges of the digital age with a modern IT architecture and the use of current cloud technologies.
Business know-how strikes the challenges confronting the financial industry today. Visit Sibos and explore how an IT architecture based on cloud technologies and microservices provides the technological foundation to set the future course for omni-channel banking, legacy modernization and cloud native development.
Will you take part in the event and would like to meet the knowis experts? Do not hesitate to get in touch with us, we will arrange a meeting. Alternatively, we would be pleased to inform you within a web demo.
Blog post: Image Sources: Teaser: Xavier Arnau - 488471764 - iStock
Video: Image Sources: chinaface - 817256242 - iStock, Josef Reiter - 688214218 - iStock; MickeyCZ - 516205218 - iStock, anyaberkut - 639509444 - iStock, Nikada - 507034234 - iStock, stock_colors - 600702030 - iStock, Sopotnicki - 51387022 - Fotolia, mrjo2405 - 886026338 - iStock; Music: License-free music from www.frametraxx.de