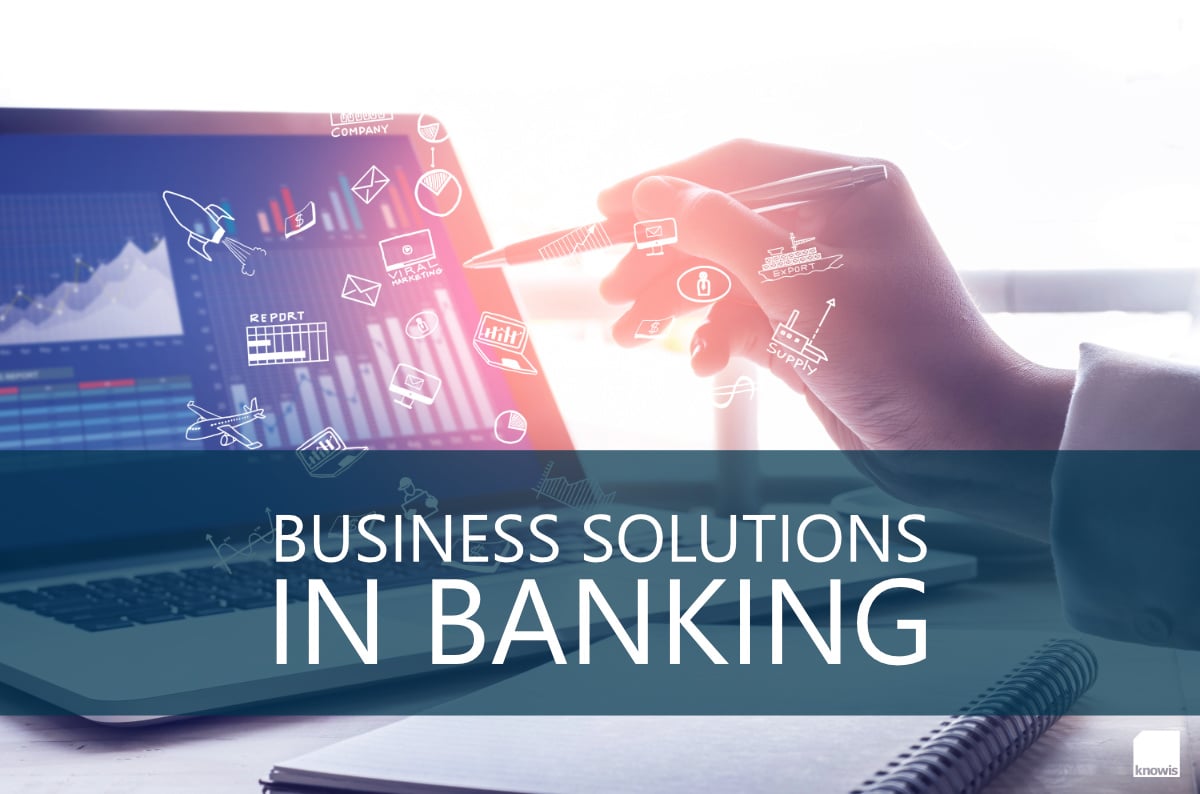 Regardless of the customer segment, credit process, or product, the customer should always be at the center of any banking solution. This is the only way for the financial institutions to successfully differentiate themselves from their competitors. However, this can be challenging if relevant information on customers is located in different repositories, is recorded only within unstructured documents, and if processing is not adequately supported by the system. In this article of our "Business Solutions in Banking" series, we demonstrate how customer-centric business applications can be created quickly and easily using the tools and building blocks of the isfinancial platform.
The aggregation of relevant customer information can consume and tie up resources in every department: from client-facing activities to back-office functions such as loan and risk analysis. And even in cases of workflow solutions having been implemented to support expert teams, real customer-centric solutions are actually hard to find. A digital solution that puts the customer at the center is a "must-have" to acquire knowledge across every process. Such an application provides users a 360-degree view of knowledge while keeping customers aware of the status of any activity. It is hereby completely irrelevant whether the business data comes from core applications, current business cases, or third parties within the ecosystem.

"Customer-Centricity is not a "One-Size-Fits-All" Approach"
Customers (and the customer experience) should be the focus of all strategic initiatives in the financial services sector. Customer orientation is an undisputable perspective and many financial services institutions are dealing with that theme. Nonetheless, the way in which customer-centricity is approached and implemented within the value chain does vary significantly from one institution to another. Transparency about the status of a request, communication via preferred channels, short response times, etc. are not any longer enthusiasm features but expected characteristics of solutions. This applies as much to retail banking as it does to corporate banking. Even if individuals are acting in a professional role in a corporate environment, they still have the same expectations on speed and user experience.
Data is Essential for the Bigger Picture
For a business solution of today and tomorrow, it is vital to make all available customer data accessible in a structured way so that it can generate useful information. However, if customer data "is living" in a different system and the various items cannot be related to one other, an expert still needs to generate insights and initiate actions manually. Workflow or business process management can assist users in orchestrating processing steps and reducing transaction costs. However, to achieve genuine automation and gain insights systematically, management of business logic and meaningful reference between business data is necessary. This lifecycle management of business data enables the system to identify the status of activities, make decisions and initiate or complete business tasks.
The expert wants to experience the business data as a structured overview of all relevant information about the customer in a digital workplace without having to switch between applications or aggregate data manually. Notification of any new information or tasks should not have to be synchronized in deal team meetings or exchanged by email. The system should notify the user in charge by a "Ping" in the user dashboard. It is important that users are able to exploit the respective context of a task and to asynchronously work on the same task or business item.
Focusing on the Customer and Staying Ahead of the Competition – Using a Banking Platform to Gain Insights
A customer-centric approach is improving both: the user experience in pending or upcoming customer activities and the customer experience itself. A banking platform can thereby provide information on the status of a request regardless of the preferred channel, ensuring that customers are continuously and seamlessly kept up to date. The associated customer insights offer enormous potential for individualization and pro-active recommendations; an approach that few banks currently exploit to its full potential.
From module to a finished application in just a few steps
Customer centricity and a 360-degree view of the customer are at the center of all of our solutions. Integrated into the digital expert workplace, which can be configured easily and efficiently, the user receives an overview of all relevant customer information. The 360° view of the isfinancial platform is focused on three key aspects:
Gaining customer insights from every data point and taking advantage of it within the sales activities and/or for early risk detection.
Creating transparency on the status of a task and providing that level of transparency to the customer.
Increasing the degree of automation in customer-related tasks and thereby significantly improving the speed of decision-making (time-to-yes / time-to-no) to the customer's benefit.
To implement a 360° customer view fast and secure, the platform provides curated designer tools and modules that natively manage customer-related data objects and their relationships to each other. These modules can be easily extended or customized without a single line of code. The curated technologies (i.e. workflow management, process management, rule management, data capture, etc.) offered further capabilities, to leverage the degree of automation. The approach provides a reduction of complexity by providing graphical modeling interfaces and implementation on a low code basis. The following diagrams illustrate the curated and pre-fabricated components involved in the implementation of a 360-degree customer overview.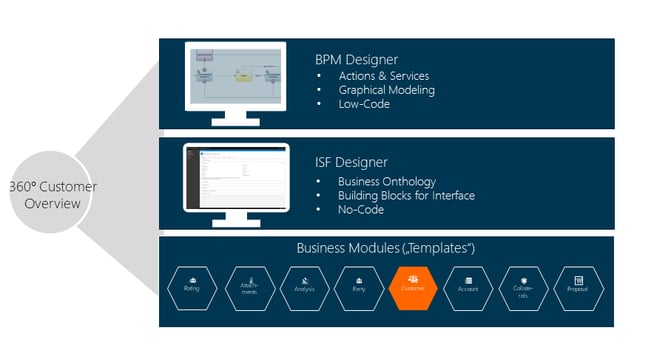 The screen below provides an impression of the user experience of the customer overview in a demo application.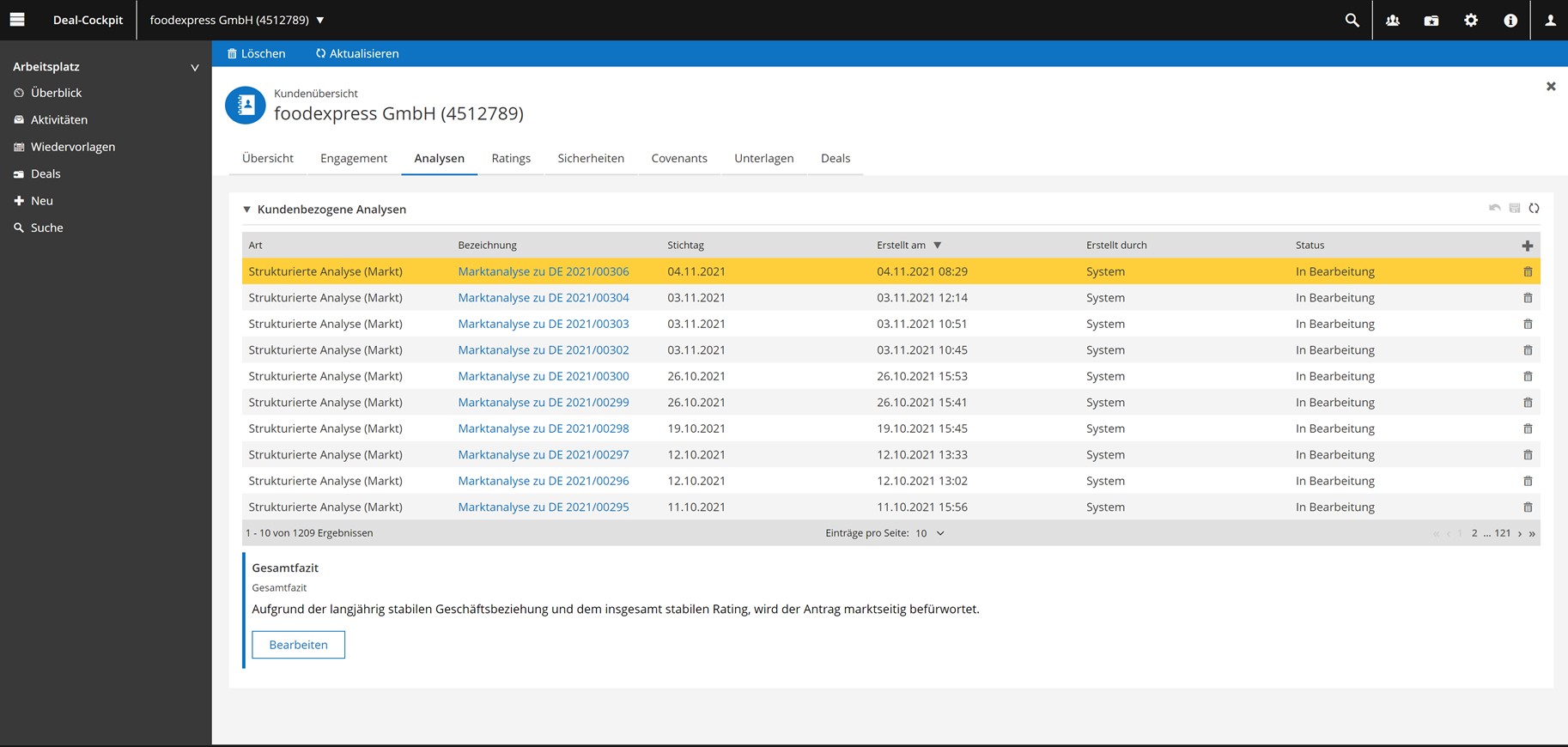 An Intelligent Banking Platform
The modules which can be provided on our platform are bounding the generic business context of all customer domains related. The entire business relation to the customer is managed and contextualized. This might involve core data as well as a new loan application or a collateral request. Events from the external ecosystem data providers can also be captured (i.e. a new risk assessment or changes in registry data) and respective tasks triggered or executed by the system.

The system can react to status changes and even handle challenging tasks by managing complex rules. The system can i.e. not just keep track of the deadline for a covenant report but also detect variations within the specified headroom and notify the responsible users. For the front office manager that might be a financing occasion, for the risk analyst, it might trigger operations to detect potential risk.

The platform can seamlessly provide information across multiple channels on any aspect of a process the expert or system is dealing with. This provides experts with transparency about the status of a particular request or application within their digital workplace. In addition, the customer can be actively involved in the journey (for example to provide documents required or to initiate a context-specific Q&A).
Conclusion
A customer-centric approach supported by the isfinancial platform combines the requirements of internal users and customers. The internal users are provided with an overview and customer insights; the customers receive all kinds of status information and direct touchpoints exposed to the customer portal. With the lifecycle and context managed, the system can react to the gained insights. As a result, the customer experience is increased, the transaction costs are decreased and the level of automation is raised substantially.
Feel free to reach out to our experts by completing our contact form and making an appointment for a product demo.
Have you already read the previous article of our series 'Business Solutions in Banking'? Here we explain how to implement covenant monitoring on a banking platform quickly and securely in a modern business application.
Teaser: HAKINMHAN - 664599098 - iStock.