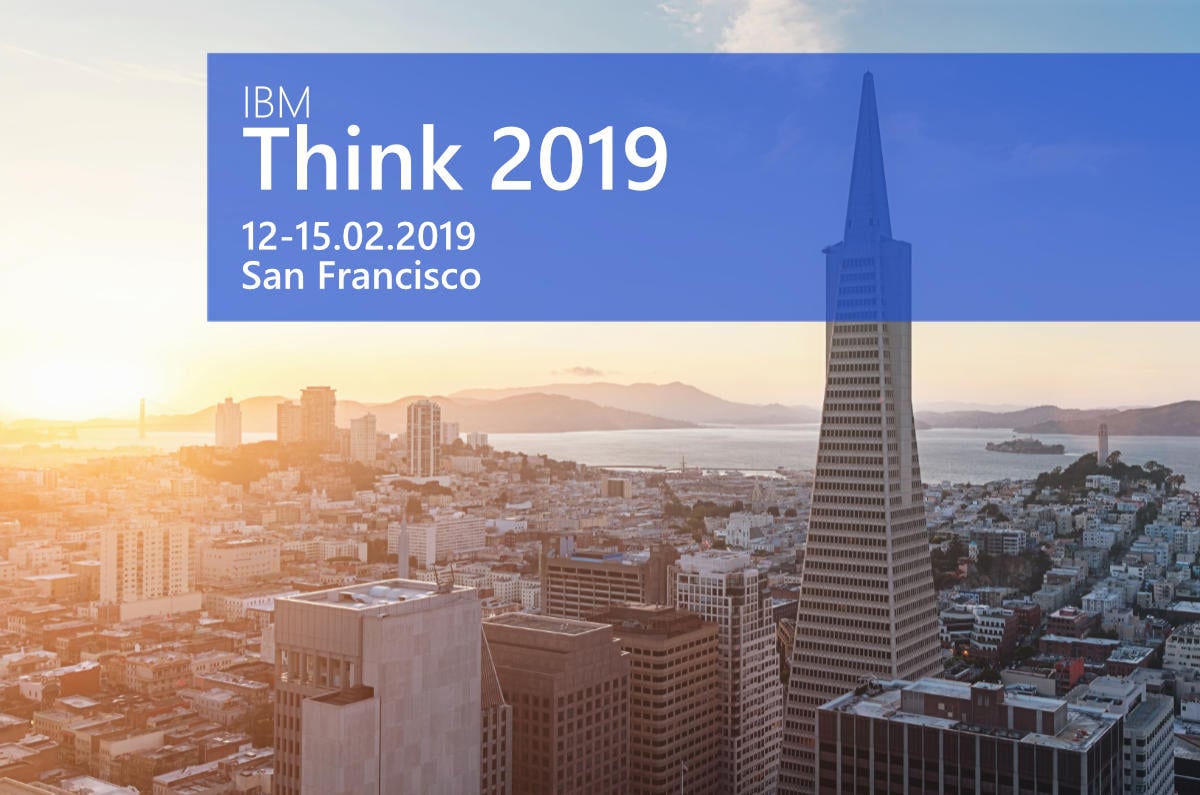 Think! The name of the annual IBM conference, to be held February 12-15 in San Francisco, is certainly an invitation. Numerous experts from many different industries will inspire you to tackle digital change and rethink the approach. As an IBM business partner, knowis AG is participating not only with sessions on Open Banking, but also as part of a high-quality panel discussion.
Since 2018, IBM has combined its former conferences (including Connect, Amplify, Vision and World of Watson) into one of the most important events in the technology industry. After the Think premier in Las Vegas, Big Blue takes over San Francisco this year and invites visitors to get together in congress centers, hotels and exhibition halls and take a look at digitalization. How can AI, cloud and co. be used today and what will be possible in the future?
Think 2019 will enable participants from around the world to network with those people who are leading the way in developing innovative technologies and creating business trends, and to benefit from their know-how. IBM executives, data specialists and visionaries will also discuss key topics and strategies across all industries. This pool of expertise makes Think one of the most comprehensive events on digital transformation.
knowis expertise on the stages of Think
Two of these experts are among the German pioneers in the area of platform banking: Gerald Gaßner, CEO, and Christian Sternkopf, vice president product management, of knowis AG. Together with IBM product manager Simon Lightstone, they will discuss the opportunities of hosting a platform on cloud in their session 'IBM Db2 on Cloud: Autonomics, TCO and Simplicity from a Customer's Perspective'. Based on their wealth of experience as providers of on-prem as well as on-cloud solutions, the speakers will describe the factors which influence the implementation of a cloud-based solution, and the added value this offers for the customers. Scalability and security are essential success factors, particularly in the financial industry, where speed is crucial and extremely sensitive data is handled every day.
"Learning from leaders" could be the motto of the panel discussion 'Achieving Client-Centricity through Digital Transformation', which addresses the growing importance of digital transformation and its implementation for IT companies. As part of the panel of experts, Gerald Gaßner discusses the challenges and stumbling blocks companies face in this venture, how these can be tackled in advance, and why an evolution of existing infrastructures and processes increases competitiveness. "It is not enough to digitize existing processes 1:1. Instead, digital transformation means questioning and adapting the current standards in order to open up new business areas," said Gaßner in the run-up to the event.
These and many more highlights await the tens of thousands of visitors from the 12th to the 15th of February 2019 in San Francisco. Will you be there and would like to meet with the knowis experts? Feel free to contact us, we are happy to arrange a meeting.
Image Source: Teaser: Mlenny - 537314888 - iStock