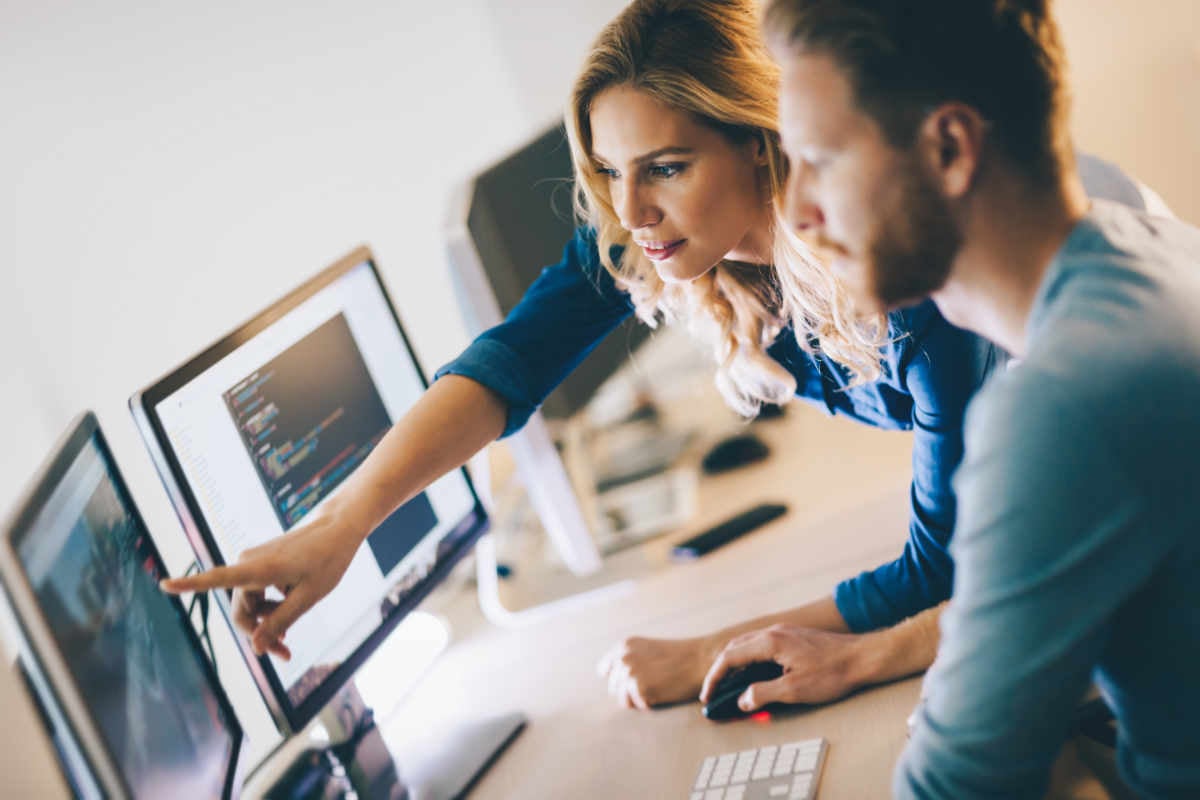 The goal of many ambitious programmers is a job in Silicon Valley, birthplace of innumerable start-ups and technology giants like Apple and Google. Often, however, the dream job is closer than you might think: here in the growing technology regions of Germany, attractive employers, such as knowis AG, are looking for talent. Although this Regensburg-based company does not have offices in Cupertino or Mountain View, it is developing innovative products with state-of-the-art technologies in agile teams, right here in the booming economic region of Bavaria. According to the Patentreport of the Chamber of Commerce and Industry (IHK), the Regensburg region is one of the strongest research and development areas of Bavaria. Michael Decker, software developer at knowis, talks about his experience with the Regensburg software company.
What does a work day of a software developer at knowis look like? This interview with Michael Decker, who has been working for three years as a software developer at knowis, provides a look behind the scenes. He talks about the application process and his tasks in the company. He also talks about his personal experience in the IT industry and how he, a former city dweller, has settled in to the city of Regensburg.
Michael, what does your typical working day look like and what are your tasks?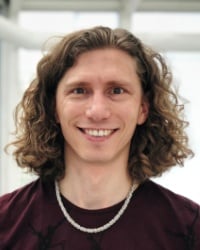 This question is difficult to answer – I rarely have a typical working day. As a software developer, of course, I spend most of my working time programming, but at the same time, I also take on architectural jobs. What I like most: The variety of tasks range from strategic long-term planning and implementation to "we need a solution in a quarter of an hour". On one hand, I like to delve into tasks very much, on the other hand, I like the thrill of being the fire brigade. I also see the accumulation and dissemination of knowledge as an important part of my work at knowis, because it creates something lasting and helps new colleagues.
What makes your job so special?
Changing tasks, often across teams, and working with new technologies and systems are special features that make the job interesting. Current cloud technologies or methods such as SaaS (Software as a Service), DevOps solutions, continuous deployment and continuous integration are not yet so established on the market and are exciting for us as programmers, since we often do pioneer work. The specialists in our IT department are diverse, so we can map many processes in-house. And the close exchange with the development laboratories of the big IT players like IBM or Microsoft is enriching for me – this kind of opportunity for networking is not provided very often.
How was the application process? What do applicants have to bring with them to be successful in this field?
I was pleasantly surprised how much the know-how of the applicant is discussed – we talked a lot about my previous work experience and what I like to work on most, resulting in a constructive conversation. This is also a tip from me to applicants: Speak openly about your experiences and expectations, even if the CV may not be that long. After all, software development gurus are made, not born. We look for employees with team spirit and open-mindedness when it comes to new technologies. A solid base of programming languages such as JavaScript, Java or Python is great, but a good programmer wants to get to the root of the problem and remains curious and keen to experiment, according to the motto 'trial-and-error'. Be it while coding or when advising the team.
How do you like Regensburg? You're also relatively new to the city.
The city of Regensburg offers a lot. I lived in Munich before and although Regensburg is much smaller, it can keep up very well. In the summer, I like to relax on the Jahninsel or cool off in the Danube. At that time of year, I would also recommend the Jazz Weekend to everyone, where the whole city becomes a concert stage. For the colder season, a theatre subscription is recommended. For its size, the Regensburg Theatre offers a comprehensive program of drama, dance and musical theatre – but also the Alte Mälzerei is worth a visit for everyone interested in culture. In summer as in winter I hike in the Bavarian Forest and also climb in the Boulder Hall in Regensburg as well as in the mountains. All in all, you get a great overall package and can feel very comfortable here.
These are the tasks of a software developer
The job of a software developer is multifaceted and revolves around the conception, realization and maintenance of software systems – depending on the size, structure and industry of the customer, with different emphases. Also, part of the developer's job is to test newly developed solutions with different methods and tools to check the software for errors – either as part of the development process or as a stand-alone job task. The developer can also take on an advisory role as a requirements manager. As a software architect, however, he or she acts more strategically and deals with the overall planning of new software. According to the software developer report by Stack Overflow from the year 2017, more than 65% of developers work as web developers.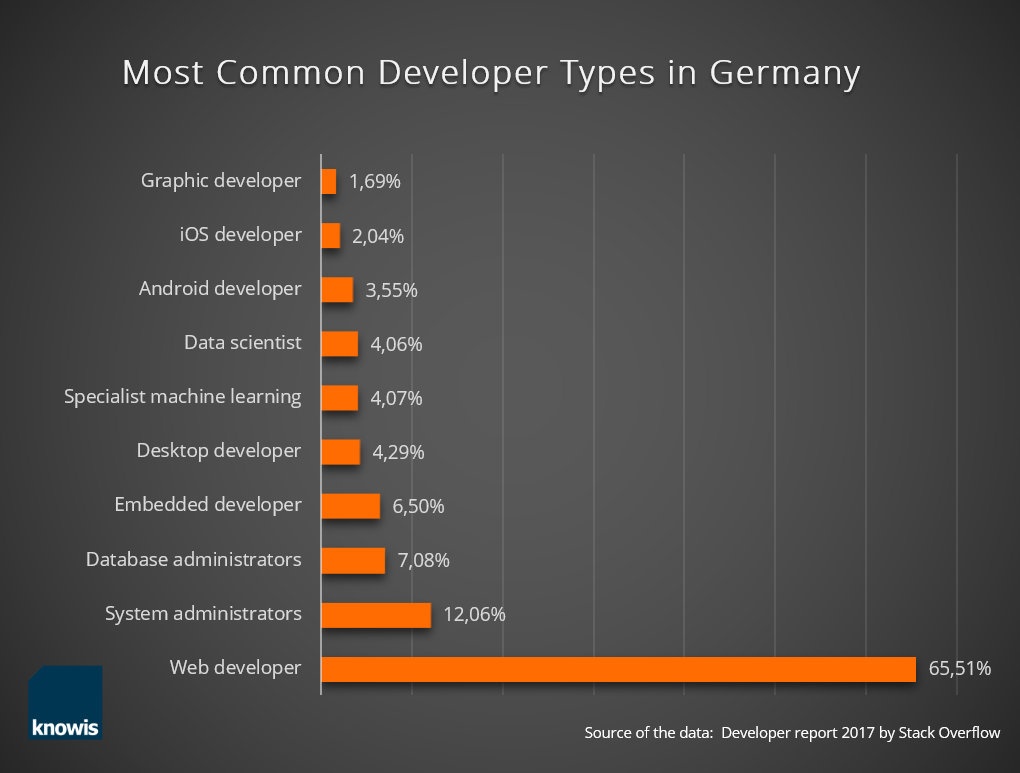 That's what a software developer at knowis does
The engineering team at knowis develops the open solution platform isfinancial and constantly faces new challenges in digital transformation. The software developers work in agile teams, but there is always room for their own ideas and solutions. Development takes place both in the classic JEE application server stack and with the latest cloud technologies, such as Kubernetes / Docker, Microservices, NodeJS, CI / CD.
There is a lively exchange between Java backend developers and full-stack or front-end JavaScript developers. In coordination with the software architects, architectural tasks are also undertaken. At knowis, the focus is on cross-departmental collaboration and teamwork to provide the optimum solution for the customer. Therefore, a developer's day-to-day work involves regular meetings to synchronize work progress and to clarify new requirements.
Become a part of knowis
Many companies require a degree in computer science or in science / technology. An apprenticeship as a computer scientist also makes it possible to start a career. With knowis, completed studies or training in the field of computer science is an advantage, but not absolutely necessary. The modern IT industry is open to career changers and self-educated people. What matters is not necessarily a title on paper, but practical experience, expertise and a willingness to learn.
Image Sources: Teaser: nd3000 - 670517478 - iStock; Infographic: knowis AG