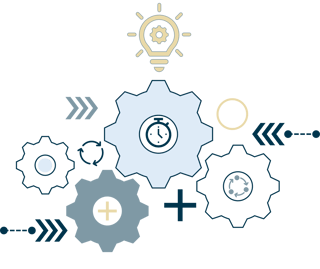 There is hardly a report on economic development without the catchphrase 'digital transformation'. The core message: Those who do not digitize are not fit for the future. However, to seize the real opportunity, it is not enough to replace paper-based forms with their digital counterparts. Rather, the goal should be to question and improve current conditions, taking into account state-of-the-art technology and industry standards.
A successful and sustainable digital transformation must therefore be geared primarily to the needs of the respective stakeholders and the long-term business objectives. The technological foundation should be highly flexible, as both markets and technologies will undergo increasingly rapid change in the future.
In the context of the lending business, this means more than just transferring paper-based documents or Word and Excel templates for a credit application into a digital format. Stakeholders have far greater demands; not least because there are far more technology choices today, which in many cases have already become an integral part of other areas of life. This includes, in particular, the design of appealing omni-channel customer journeys, the utilization of automation potential, and complete transparency of information.
Digital transformation holds enormous potential for banks, especially in the credit sector. Processes centered around credit are complex and intricate. There is often no precise knowledge of their profitability. Focusing on the interests of the stakeholders quickly reveals that, in the current situation, significant improvements can be achieved for all participants through continuous and flexible digitization of credit processes.