isfinancial Banking Platform:
Business App 'Risk Cockpit'
The solution for RELIABLE Decision-MAKING Processes
In cooperation with the project team of our customer, the business application 'Risk Cockpit' was developed using the tools of the isfinancial banking platform. Due to the modular architecture approach of the platform, various modules could be quickly and securely implemented into a solution that maps the reality of the state bank's lending business. The app was therefore already in productive use 5 months after the project kick-off.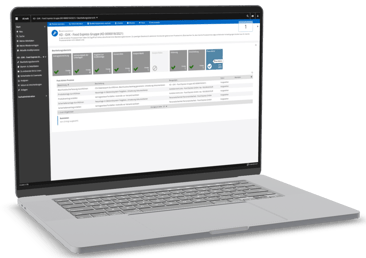 Risk Cockpit is tailored specially to the requirements of the back office and offers all the functions needed in connection with the preparation and decision-making of credit proposals. Expert views of loan exposures and ongoing processing procedures simplify and accelerate decision-making processes. The application handles data preparation and supports all processes related to analysis, voting, and decision-making. Additional functions simplify collaboration with other units and communication with the customer:
Customizable permissions and built-in substitution for all back-office employees

Use of the app at various locations through multi-client capability and multi-language support
Automation of template preparation and structuring in digital template portfolios by the system
Customizable system support for many tasks (for example, target document determination and automated request, preparation of analyses and assignment of pending analysis steps, collaboration from within the digital template)
Dashboards clearly display the status of requests or templates, processing times, and more
Business intelligence: smart forecasting of expected processing time for loan applications or templates
Immediate interaction with customers via document request and chat when integrated into the customer portal.
The application also serves our customer as a starting point for system support of requirements resulting from the guidelines of the European Banking Authority (EBA) and in the context of ESG (Environment, Social, Governance), for example in lending according to sustainability criteria.