Business App 'Operations Cockpit'
The Solution for The Digital Banking Back Office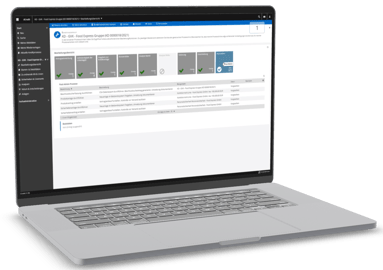 In this customer project, the 'Operations Cockpit' application was developed to create a digital workplace for all employees in the back office. The business app was implemented on the isfinancial banking platform and uses the technologies available on the platform to automate follow-up processes in lending.
Availability of data from the mid office and front office is the key to automating the back office at our customer. The isfinancial platform links data from the different silos of the bank and creates knowledge. The information provided is the basis for our customer to be able to replace manual work in the back office with initial system decisions and services. The wider vision includes the use of cognitive technologies.
Operations Cockpit eliminates time-consuming routine tasks such as handovers, paperwork, and bookings for the specialists in the bank's back office by automating data processing. Task packages are tailored and assigned to employees by the system and completed in the workplace. Roles and permissions can be configured at any time. Switching between different applications is no longer necessary.
In addition, the following benefits were achieved for the users:
The task packages are related to the customer or project.
The status of each task and responsibility are transparent.
Processing times can be measured and compared with service agreements.
Activities are initiated by the system when service levels are exceeded.
Collaboration, review, and approval take place in the digital workplace and in the context of the specific task.
Data is transferred from the digital workplace to integrated legacy systems.
With isfinancial, our customer has moved one step closer to the vision of 'zero back office' and has successfully paved the way for the further digital "construction" of the credit landscape.