Every company defines goals that it wants to achieve. Particularly in the context of digital transformation, the occupational field of business analysis is of great importance, as companies increasingly seek to digitally optimize their business processes. In order to efficiently master the path to the desired solution, it is essential to create a common understanding between the separate divisions, especially between business and IT. knowis is also looking for motivated graduates and professionals who want to demonstrate their strategic abilities to a hidden champion in the IT industry. In this post, you will learn more about the multifaceted job of a business analyst and the skills and characteristics you should be equipped with to become one yourself.
If you ask business analysts about their daily work, you will get very different answers depending on the company they work for. This is due to the fact that it is a relatively young professional field with a broad range of tasks. An interview with business analyst Vanessa Vouilléme provides more insight into the tasks and requirements. Vanessa has been working for knowis AG since January 2018. After training as a bank clerk and subsequently working as a real estate specialist, she quickly integrated into the knowis team and now looks after her own projects with clients. In the interview, Vanessa also talks about the application process and compares her daily work as a business analyst with her previous work at a bank.
Vanessa, what is your typical working day like and what are your tasks?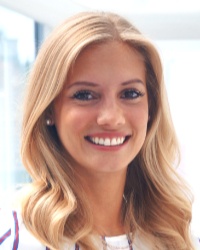 As a business analyst, I take on the role of mediator between us as a solution provider and our customers in the financial industry. As the direct contact person for our clients, I am responsible for various topics (professional, technological, and organizational) during a project. This means that, depending on the project phase, a lot of my job happens at the customer's site. In workshops, we cooperatively model a suitable solution and outline how it can be realized through an agile procedure. In particular, the focus is on the structured compilation and processing of requirements. Once these requirements have been defined, my workplace increasingly shifts to our office in Regensburg. Then, an important task for me is to regularly consult with our software developers about the technical implementation of the customer's specifications. But this is only a small insight into my work – actually, no two days are the same. In particular because, as a business analyst, I do not only work closely with the banking specialists and our developers, but also with all other stakeholders. In addition to the project management and the product owner, these include colleagues from the respective test team.
What special skills does a business analyst need?
There are a lot that spring to my mind! I find empathy very important, as the stakeholders and their needs are always at the center of my work. You need that to recognize the expectations and motives of certain groups. Having a confident demeanor and no hesitation to ask questions is also very useful in this context. When conflicts arise, my communication and facilitation skills help me handle the situation. An analytical way of thinking and methodological competence are abilities that I consider necessary to develop a solution. Finally, you should also bring a certain amount of creativity to find new methods and approaches in the interest of the customer.
Why did you apply at knowis and how was the application process?
I was working for a bank previously and looking for a new professional challenge with excellent prospects. I found out about knowis through XING and applied because here, I get the opportunity to combine my experience in customer service with newly acquired knowledge, most notably in the areas of IT and project management. The entire application process was really fast – after two pleasant discussions I was convinced that my future was with knowis. It was not a typical interview with standard questions, it was more of an exchange of ideas about my professional qualifications and my motivation for the job. This was different from my previous experiences, in a positive way.
How would you compare working at a bank with your work at knowis?
In my experience, the structured banking routine demands a lot of fixed rules and procedures. This means you know exactly what to do, but you don't really have the freedom to work creatively. At knowis, in contrast, a business analyst can actively shape the procedures within the projects. Personal responsibility and self-organization are promoted and expected here, so that everyone can contribute to the company's success.
Business Analysts: Problem Solver on the Project
What are the customer needs? Which requirements can be derived from this and how can they be implemented efficiently and effectively in a project? Answering questions such as these is part of the job of a business analyst. Depending on the industry and the individual goal of the employer, however, the tasks of business analysts may differ considerably. The basic principle, though, is that they analyze business processes in order to optimize them, and plan the necessary steps in the project they are involved in.
Today, the profession of business analyst is more relevant than ever: Particularly in the context of digital transformation and the resulting change in processes, business analysts play a vital role when it comes to modeling sophisticated solution concepts. It is essential to identify potential problems early on and to distinguish where there is room for improvement. Business analysts therefore often focus on reconciling the needs of the stakeholders with IT-driven business processes. Just like interpreters, they translate the requirements of subject matter experts into specifications for the IT experts, acting as mediators between the different worlds. A substantial knowledge base in both areas as well as their structured, analytical approach distinguishes experienced business analysts.
The successful interaction between all participants – which means, above all, the flow of communication – must be ensured until the previously developed solution has been implemented. The job of the business analyst consequently requires not only professional and methodological know-how, but also a good deal of communication and social skills.
The Tasks of a Business Analyst at knowis
The expertise of knowis is focused on the financial industry; banks and financial institutions are our customers. Like many other companies, they are challenged to digitally evolve and rethink existing processes to increase their efficiency and remain competitive. This is when, first and foremost, business analysts are called for! The financial industry is a complex field of business that requires them to thoroughly deal with intricate topics before they can start to develop a solution.
At the beginning of the project phase, the diverse specifications of the customer demand a thorough strategic analysis of the situation, usually directly on site – specialist knowledge in the field of banking is an advantage here. Developing a concept of the solution together with the customer is fundamental in order to create a common understanding. With the help of various complementary methods, such as Event Storming and User Story Mapping, complex business processes and their planned implementation in the new solution are distinctly displayed. This serves to identify the potential and the problems that might come up, and helps to ultimately determine clearly defined project goals. The business analyst acts as a moderator in such events and guides the participants.
Only now does the operational phase of business analysis begin. The exact specifications are derived from the evaluated solution concepts. The targeted IT solution is broken down into subtasks, which are typically realized in the context of agile software development. The various roles in the implementation team (for example, solution architects and solution engineers, IT architects and developers) are now working together to actually implement the solution. For this reason, it is an important function of the business analyst to define the desired IT solution and all associated requirements correctly, completely and comprehensibly. This is the only way for all team members to know what is essential for the successful implementation and achievement of the project goals.
Bridge Builders and Strategists with Personality Wanted
You want to get to the bottom of things and improve them continuously? These are the best prerequisites to succeed as a business analyst. An economics degree, preferably with work experience in a suitable subject area, is one of many possible foundations for your career start. As a business IT specialist who wants to get a deeper insight into the world of business, you are also highly qualified. However, newcomers with basic knowledge also get a chance with knowis, if they want to develop further and bring the necessary motivation for the job.
As a business analyst at knowis you combine business and IT. You should have an affinity for software and an understanding of business processes. Your personal skills are also particularly important: Since you are the link between different areas and interests, versatility and empathy are among your most important qualities. Your open demeanour and strong ability to interact convince our customers when modeling solutions in workshops. Does that sound like you? Apply now!
Image Sources: Teaser: MandicJovan - 939776160 - iStock; Photo: knowis AG